Let's develop renewable energies in Akita
We, WENET AKITA, have been engaged in developing renewable energies in Akita even from before the Great East Japan Earthquake and our basic concept is participation by the local citizens.
Tohoku Region has wide variety of renewable energy resources, especially Akita is suitable for wind power generation. We have succeeded to install seven large-sized wind turbines in Akita. For this activity, developing task forces specifically connected with local community is essential to explore the optimized possibility and coordination with local environments.
Many years before introduction of Feed-in-Tariff scheme in Japan by the Government, we had been aware of the significance and possibility of the locally initiated movement. FIDEA Holdings Co.Ltd, one of the leading financial institution groups which has Akita-based Hokuto Bank within the group, had planned, elaborated and created VENTI JAPAN Inc. as the first wind power generating company under a financial institution leadership in Japan together with Ugo Setsubi Co. Ltd. and Ugo Densetsu Co. Ltd. This achievement conveys a powerful message by Akita area to announce that it will contribute to the society by accelerating the evolution of the local economy and it also will show a future model of energy industries which assign the main role to local regions.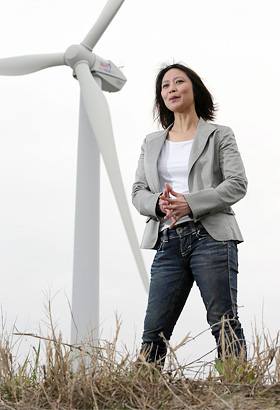 As a part of additonal task, WENET AKITA, in cooperation with VENTI JAPAN, organize tours for the children and habitants to construction sites of the power plants and also create many opportunities likewise. By doing so we will try our best to foster the deep interest by the people here in development of local industries and good understanding of changes in the community.
We witnessed a lot of lively and pure looks in the eyes of children who watch gigantic wind turbines.
We swear to support and cooperate with VENTI JAPAN who goes forward to develop area-rooted energy industry with the citizens accompanied by profound affection to the community and swear to preserve what we believe to be beautiful now and to inherit them to the next generation who bear the future.
Go for it, VENTI JAPAN!
Minako Harata

Born in 1970, Akita-city.
Joined WENET AKITA in January 2003. Has been engaged in project managements including land acquisition and other core tasks. Has been involved in all the 7 projects of installing wind turbines in the Akita area.